Season 11 episode 3 / Plus one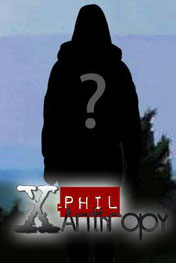 Interview with our winner Dejna / January 2018
X-Philanthropy : "Since when are you a fan of the X-Files?"

Dejna : "My very first memory of The X-Files is the bathroom scene in the episode Irresistible. I was 10 (at the beginning of 1997). A few weeks later I was watching The X-Files with my mum on a regular basis with the condition I have to close my eyes during scary scenes. Since the Fearful Symmetry, I did not miss any single episode and I am still a big fan."

X-Philanthropy : "How was the moment when your husband told you that you are the one who is allowed to name a character in your favourite show TheX-Files ?"

Dejna : "It happened 2 days before my B-day so it becomes the very best B-day present. We regularly donate charities in our family. I knew a little bit about this one, but I have no idea we really donate something to it. It was a huge surprise for me when Pavel told me we have won !"

X-Philanthropy : "Was it easy for you to get the names and is there a meaning behind them ?"

Dejna : "Both yes and no. We find out my married name (Humpolec - a name of a small town in the Czech Republic) is not really appropriate in English :-) And my first name is Dana and there is already one important Dana in The X-Files :-)
We were thinking about what next and then we choose my maiden name and its male form. That was how we came up with Dean Cavalier and Dana Cavalier.

The third name is an honour for my best four-legs friend - Jack Russel Terrier Babsi. She is an actor too, as she played in a lot of commercial and she appears in some TV show. She always loved to stand in front of the camera as she is a big extrovert - not like me. I did it as a symbolic conclusion of her career as an actor. She is 13 this year. That is why the last proposal was Babsi Russel. It was a huge surprise for me when I read 2 names I proposed are going to be used."

X-Philanthropy :"What was your very best X-Files moment ?"

Dejna : "I tried not to celebrate until the very last moments. It was all too much unbelievable. I can really participate in a show I love over 20 years! And the imagination that Chris Carter is reading my proposal personally... When I saw the notice on the website spoilertv.com during Christmas where chosen names were black on white, it was the best Christmas present ever and I allowed myself to be happy :-).

But my strongest The X-Files experience is the whole 2017. During the 10th Series, we promised to ourself that if there will be the 11th season we have to be there! Plus Canada and Vancouver have been on a wishlist for our dream vacation already. We have planned to go there one year earlier for our honeymoon, but we changed our plans to the Scandinavia as we could take our dogs with us. But when the 11th Season was announced in spring 2017 we knew we have to go. We have spent 3 weeks in Canada, including Vancouver during September. We were lucky as we saw the shooting of S11E04, we saw Darin Margon, and... we saw David Duchovny (Gillian was at the Golden Globe ceremony during this time), We have visited a lot of The X-Files location from the previous season in the Vancouver and neighborhood plus we have met Brick Duchovny :-) To stand in the places where The X-Files was shot in the past years really hit me strongly. The dream comes true. And watching the shooting and saw a DD was just an icing on a cake !"
photo credits : fotohacko.cz
Dear Dejna thank you very much for the little interview !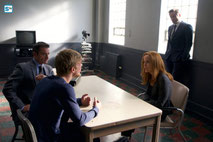 Benjamin Wilkinson as Dean Cavalier
THE X-FILES: L-R: Gillian Anderson and David Duchovny in the "Plus One" episode of THE X-FILES airing Wednesday, Jan. 3 (8:00-9:00 PM ET/PT) on FOX. ©2017 Fox Broadcasting Co. Cr: Shane Harvey/FOX source : spoilertv.com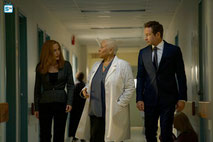 Denise Dowse as Dr. Babsi Russel
THE X-FILES: L-R: Gillian Anderson and David Duchovny in the "Plus One" episode of THE X-FILES airing Wednesday, Jan. 3 (8:00-9:00 PM ET/PT) on FOX. ©2017 Fox Broadcasting Co. Cr: Shane Harvey/FOX source : spoilertv.com