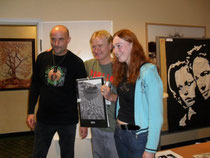 In september we (Unicorn1013 and hotelkalifornia) went on a round trip around Iceland. On our journey we took pictures for the cycle of photos "Ráðgátur" for a fanart-contest on the X-con 2009 in Berlin. We made a calendar out of these 13 pics for our host in Berlin. When we gave it to her while helping to prepare the con, many people were interested in buying a calendar. By the end of the convention there were 30 people interested. Even special guest Dean Haglund fell in love with these pics while having a look at all the fanart. Thus we gave one calendar to him, signed by ourselves by his request.
After consulting LittleBlue and smallpotato we decided to have the calendar printed in a small print run and to sell it as part of the x-files mania charity action for Gillian's Buskaid-projekt (further information at: xfmforgillian@ymail.com)
They still have lot's of pins and buttons to sell for their project.
The calendar's dimensions: 45 x 30 cm (18,5 x 11,81" ), printed on black paper
Here you can have a look at the pics:
http://s1009.photobucket.com/albums/af212/XConvention/Island-Kalender/

Price (shipping included) for 1/2/3/4 calendar(s)
Germany: 25 € (thereof min. 2,20 € for charitiy) / 45 € / 63 €/ 83 €
Europe: 27 € (thereof min. 2,60 € for charitiy) / 50 € / 69 € / 89 €
Outside Europe: 33 € (thereof min. 2,60 € for charity) / 55 € / 74 € / 93 €


If you'd like to order more than 4 calendars (for Gemany only), shipping costs might be less expensive, please send us an e-mail in this case.

Well, if you'd like to buy the calendar, please write an e-mail, your name and address included, to : radgatur@gmx.de, than we will send you the payment details. The calendar is regarded as ordered after we received the money.
We are going to collect orders until November 30th 2009, have them all printed and sent then. Thus everyone should have them right in time for x-mas. ;-)
Orders are still possible after this deadline, but the calendar might be more expensive then and we cannot guarantee a shipping until the end of the year then.

If you have further questions, please feel free to contact us via radgatur@gmx.de

Bless, bless

Unicorn1013 & hotalkalifornia